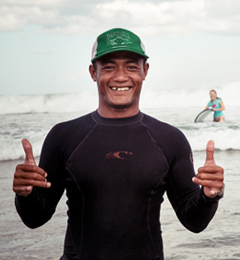 Ketut Tirta is from North Bali and is a fully-qualified surf instructor with over 20 years experience. He has gained much of his experience working in renowned surf schools across Bali.
Support the local business and get your surfing lessons with Silver Surf Bali – you'll be sure to have a great time!
__________________________________
Also check out our reviews and recommendations on the international travel community site TripAdvisor.
Do you want to learn how to surf?
Whether you want to try surfing for the first time, or you've got a basic idea and would like to improve your skills, Ketut from Silver Surf Bali is the man to patiently guide you through your beginner, intermediate or advanced class.
Booking
For booking and information, please send an e-mail to Ketut Tirta: silversurfbali@gmail.com
or call or whatsapp +62 81 239 505 151 from overseas, 081 239 505 151 locally.
Location
Silver Surf Bali is conveniently based in Canggu, South Bali, but classes are taught wherever it is safe and appropriate for your level. Transport will be arranged from your accommodation to some of the best surf breaks Bali has to offer.
Lessons
30 minutes of theory on the beach
2 hours of practical in the water
Private lessons so Ketut can focus all his attention on your waves.
Lessons with 2-3 students are possible on request.
Surfboard, drinking water, hotel pick-up/drop-off from Canggu, Seminyak and Kuta area and heaps of fun included!
Time of classes depends on conditions (wind, swell, tide,…)
Safety
All precautions are taken for a safe and sweet day in the water. Silver Surf Bali will not run classes if conditions are unsafe.
Surfing tours, day trips and transport
Surfing tours with a professional guide can be arranged through Silver Surf Bali.
Save your precious surfing time and get a local to show you the secret breaks.
Silver Surf Bali can also help you with transport from:
— Canggu to Ubud
— Seminyak to Ubud
— Ubud to Canggu, Seminyak, Kuta, Sanur, Nusa Dua or Jimbaran
(This transport is not a pick-up/drop-off service for surf lessons, but an additional service upon request)
If you are interested in other sports activities, don't hesitate to ask.
Please leave your name and comment, we'd love to hear about your experience.
For bookings please contact Ketut via e-mail or phone, and NOT here in the comment field. 
We can not guarantee to respond to inquiries made through the comment field.